FOR DOG OWNERS & LOVERS
Books by Cheryl S. Smith
---
---
(John Wiley & Sons, 2008)
---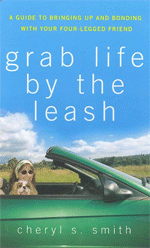 Winner of the Dog Writers Association of America Maxwell medallion for best health and care book of the year.
With information particularly relevant to Baby Boomers in their 40s to 60s, this book will acknowledge the life changes that may leave mid-lifers with just their dogs for support after death or divorce, when confronting an empty nest, or with older family members moving in and making demands on their free time.
Includes not only selecting a dog, veterinary visits, diet, grooming, and training, but also exercise, dog psychology and physiology, the physical and mental health benefits of dog parenthood, and human/canine interaction.
---
(Dogwise, Spring 2007)
---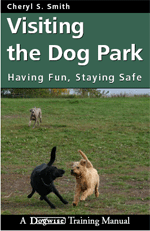 This new book looks at the controversial topic of dog parks with the idea of helping dog owners to use them wisely. Socialization and exercise are both important to the well-being of dogs, but safety also needs to be considered. Learn how to maximize your dog park experience while minimizing any potential problems.
The book includes chapters on who should and shouldn't use dog parks, the good and bad of dog park design and rules, training specifically for the dog park, observing and understanding canine body language, conflict resolution, a step-by-step walk-through of a visit to a dog park, how to avoid health problems, and resources.
---
---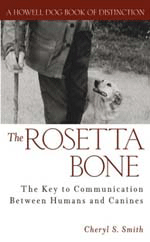 Winner of the Maxwell medallion for best training book of the year, special award for best training publication of the year, and President's Award for best dog writing of the year.
This book is about people and their dogs living well together. It's a look at how people can communicate with their dogs and understand what their dogs are communicating to them. It's about helping dogs fit into human society. While some training is included, the focus of the book is the BASIS for learning and understanding. Chapters examine different aspects of communication, from spoken language to body language, touch to telepathy. With true communication, dog owners will have the means to avoid problems and solve any that do occur. After reading The Rosetta Bone, you will be able to explain the meaning of a variety of words to your dog, use body language to assist in communication, understand how a dog' heritage can relate to personality and problem solving, decipher canine communication, get to the root of problems and solutions, and enjoy your dog more.
Review - Steve Dale, My Pet World
Without a doubt, this is the seminal effort from this award-winning author. Forget about hiring one of those dubious pet psychic-types - just read this book. Ms. Smith clears up misconceptions. A wagging tail doesn't necessarily indicate a happy dog. A growl doesn't necessarily indicate an angry dog. What's more, a growl might indicate fear. Therefore, punishing a dog for growling isn't effective and might make matters worse. What would happen if you punished a child for being afraid?

If you choose any single book to read to decipher dog talk, this is the best. One chapter is called "Conversation with Canine." Complete this book, and you can have one.
Buy this book at Dogwise.com
Return to Top
---
---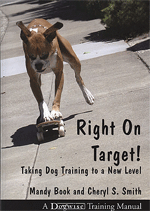 Co-author Mandy Book and Cheryl give step-by-step instructions for how to train a dog to target your hand, a contact disk, or a target stick. Target training provides a way to help you shape behaviors, lets you build speed from the start, and focuses your dog on training. Save your back, work at a distance, or get tricky parts of the dog, such as the back feet, moving the way you want them to. Utilize targets to build complex behaviors. Use target training for at-home manners, therapy dog work, canine sports, to teach tricks. Targeting can help you achieve your goals with your dog.
Review - Clean Run magazine
In Right On Target! Mandy Book and Cheryl Smith have written a comprehensive guide for dog owners and trainers, whether you want a well-behaved dog in your home, a dancing partner for canine freestyle, a movie or commercial "star," or the best agility dog you can train, this book will help you achieve your goal. . . This book provides a well-explained plan for teaching behaviors to your dog that will make your dog look like a genius.
Buy this book at Dogwise.com
Return to Top
---
---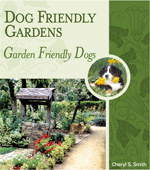 How to minimize conflicts between your dog and your garden, whether you live on a city lot or country acres. Learn how to plan your landscape to best advantage, both for your enjoyment and for ease of maintenance with your dog in mind. Use borders and paths to your advantage, choose plants that can withstand some doggie misbehavior, avoid plants that could cause health problems for your dog. Also learn how to train your dog to behave well in the garden, whether it's just keeping off the daisies or actually helping you with gardening chores, from fetching gloves to pulling a cart full of prunings. The first book of its kind, for those many many households that include both a dog and landscaping.
Review - Ann Lovejoy, Seattle Times
I am frequently asked to help create garden designs that accommodate the varying needs of people, plants, and pets. . .Happily, a new book that recently crossed my desk will be very helpful for those struggling to balance the pet/plant equation.

When I first opened the packet, I thought it was just another glossy, goofy book showing dogs romping in gardens. I am delighted to report that Dog Friendly Gardens, Garden Friendly Dogs is not just a cute picture book, but an extremely useful guide. . . This terrific little book is packed with ideas and suggestions on how to design garden spaces for any yard, big or small, that will please both the resident dogs and people. It will please anybody who loves both plants and pets, and would make a fabulous holiday gift for dog owners whose darlings are not yet garden friendly.
Buy this book at Dogwise.com
Return to Top
---
---
---
The print book The Absolute Beginner's Guide to Showing Your Dog has been taken out of print by the publisher. The author has regained the rights, but because the "Absolute Beginner's Guide" is a series title, had to change the title. All of the same wonderful information and tips from the pros are still available, now as an e-book titled "Showing Your Dog, for Beginners and Beyond." Some information has been updated, but most of the content, praised by breeders and judges, remains the same.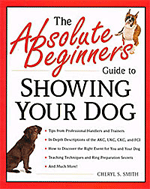 So basic, it includes a chapter on how to watch and understand a dog show. For the more seasoned handler, it includes tips from professional handlers, judges, and breeders. And it ranges far beyond the AKC, covering the UKC, ARBA, CKC, and FCI as well. Whether you just want to understand what you're seeing when Westminster is televised, or want to stand with your dog in the big ring there someday, this book can help.
Excerpt:
"Dog showing will teach you some facts about youself. Maybe you thought you'd be a nervous wreck in front of all those people, but you find yourself so proud of your dog's self possession and poise that you share in some of those qualities. Or it could be you thought yourself assured and unflappable . . . until someone made a disparaging remark about your beloved canine just before you stepped into the ring to be judged. If you have not competed in organized sports before, you may be surprised at how ferocious your desire to win can be . . . and might need to learn to rein it in. Showing a dog will offer you plenty of practice in being a "good loser" (though we hope you realize that your dog is not and never could be a loser, no matter what happens inside a ring enclosure) and, we hope, an equal opportunity to show yourself a gracious winner. As in many competitive sports, dog showing presents an odd blend of friendship and flat-out selflessness versus mean-spiritedness and sour grapes. Resolve before you begin that you will walk on the sunnier side of the street. Dog shows are a terrific place to make friendships that can last a lifetime."
Buy this book at Dogwise.com
Return to Top
---
---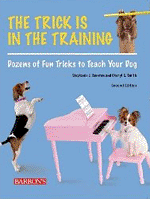 Co-author Stephanie Taunton is a professional Hollywood animal trainer, so the advice on using these animal acting behaviors is certainly well-founded. And it's not just movies – they're useful in pet therapy and dog sports and even talent competitions.
The training is positive, and the photos help illustrate the written instructions. There are tips on timing and problem solving and uses for each behavior. Behaviors cover:
Sit, Down, Stand, Stay
Wave/High Five, Sit Up/Beg, Bang/Play Dead, Where's Your Nose?
Head Down/Head Up, On Your Side, Crawl, Cross Your Legs, Roll Over
Feet Up, Put 'Em Up/Walk, Take a Bow, Circle
Go Around, Figure Eight Through the Legs, The Grapevine/Weave
Hoop Jump, Jump Through Arms, Jump Over Leg, Alley-Oop/Hug
Speak, Count/Answer Questions, Kiss, Say Your Prayers
Hit a Mark, Limp, Foot Target, Back Up, Hide Your Eyes, Balance a Cookie/Toy
The Trick Is in the Training has been adopted by Harcourt Learning Direct as a required book in their home study course for dog trainers.
Excerpt:
"The timing of your reward is extremely important, so much so that each set of behavior instructions in the book includes a quick section specifying when to give the dog the treat. Incorrect timing means you are not rewarding the correct action. If your dog sits up beautifully but your reward comes when her front feet are back on the ground, she may think the action you are after is a quick 'Sit up, sit down' sequence. Always consider what you are rewarding. Associate the command with the action with the reward. The more dramatic you make your signals and body language, the better response you'll get from the dog. Now is not the time to be self-conscious."
Buy this book at Dogwise.com
Return to Top
---
---
This e-book is a compilation of magazine articles and columns, all related to canine nutrition, with a special emphasis on nutrition and performance, medical issues, lifestages, and ethical considerations. The book was spurred by requests for copies of past articles from a variety of dog lovers. I gave it a low price so that it would be easily accessible to those who may need it for the betterment of their dogs.
---
---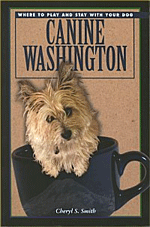 This book is for residents of and tourists to Washington state, who enjoy traveling with their dogs. It's quite a dog-friendly state, and offers a stunning array of scenery available simply by driving up, or by hiking many miles, and everything in between. The book provides an array of hiking choices spread across the state, as well as accommodations, dog-related activities, dog washes for those happily dirty dogs, and more. Published by Fulcrum Publishing.
Buy this book at Dogwise.com
Return to Top
---
---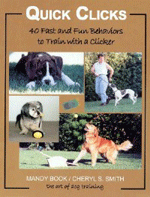 The second edition has been reformatted, reorganized, and now includes abundant photographs! It makes this clicker trianing resource even more valuable. Published by Dogwise and available from them and many other vendors in both hardcopy and e-book.
Clicker training for the average dog owner, step-by-step, without all the confusing jargon. How to train the behaviors every dog owner wants -- sit when greeting people, walk nicely on a leash, and many more -- plus fun tricks and games and even holding still for toenail clipping and grooming! Co-author Mandy Book has conducted classes through her Oz Training for many years, and studied and practiced clicker training with numerous dogs and other animals. Other clicker trainers offer short stories of training species from beluga whales to ostriches to walruses. See the article "The Training Game" for more about the power of the clicker.
Excerpt:
"While we will do our best to avoid a technical vocabulary throughout this book, "shaping" is a term that's too good not to use. It beautifully describes breaking a behavior down into a series of small steps that look increasingly like the end behavior and gradually putting them together, "shaping" them into a final picture of the behavior for the dog. Each small step toward the final picture is rewarded with MANY clicks and treats. With a little patience, skilled shaping, and a lot of clicks and treats, many complicated behaviors can be taught this way. It's crucial to break the behavior down into many, MANY steps. Think about it and write the steps down to help keep you on track. Problems will occur if you try to take steps that are bigger than the dog can understand. Picture yourself trying to climb to the top of the Empire State Building. If you take your time, rest when you have to, and don't care if the trip takes all day, you'll probably make it. But if you try to sprint to the top, skipping every other stair, unless you're a really well-conditioned athlete, you'll probably collapse and give up. It's the same with shaping. Trying to take steps that are too big too quickly will ultimately result in failure. Plentiful rewards are also essential. Monty Roberts, one of those people now being called "horse whisperers," has said that he was once told that if the learning process is a range from zero to ten, then the most important part is the stage from zero to one. Reward early and often."